You have decided to make a trip. All arrangements done, and now the only thing left is for you to pack. For a lot of people, packing is a big headache, and often forget to pack one thing or the other. Let us look at what all you must carry while you are taking a trip.
1. Tickets and ID cards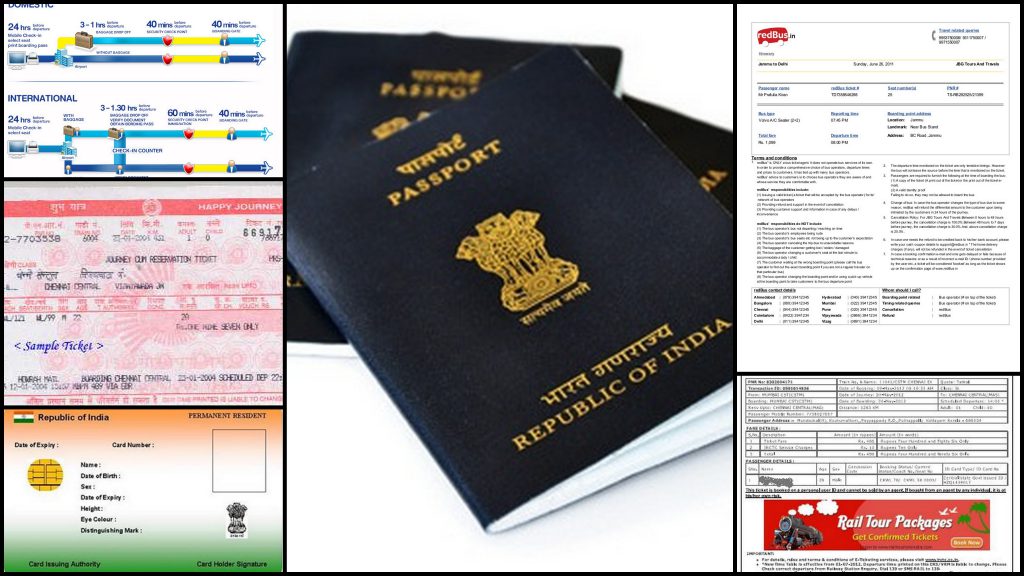 A lot of booking is done via online these days. Even though in most of the cases, e-tickets are officially accepted, it is always better to carry a printout of the ticket just in case your gadgets decide to go on a strike. At least write down your ticket or PNR number just in case there is an emergency. If you are travelling by air, many carriers offer web check in. So make sure you note down the details of that as well.
Also carry two ID cards with you. One in your wallet and one in your bag for backup. In India, it can be anything from your passport, or Voter's ID or your ration card.
2. Money
This is the age of internet banking and ATMs. But, it still wouldn't hurt to carry some money around with you if there is an emergency. Always remember to split the money and keep. Put some money in all the bags you carry, and some in your wallet as well. Never write down your ATM pin anywhere.
3. Gadgets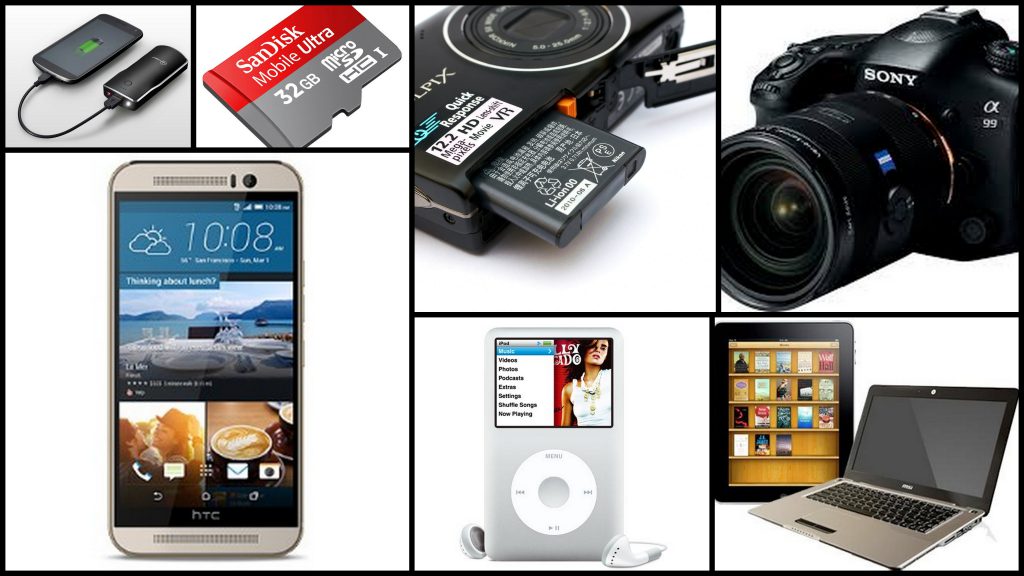 Everybody has a smart phone these days which helps us navigate through unknown places. And you are travelling, so there is no way the camera is left unused. But the problem with using them is that the battery drains pretty quickly. So do not forget to take your charger. If you have a portable charger, well and good. You never know when you can charge your phone next. And most people also have a backup basic phone. Take the charger for that as well. And if you want to take your laptops, kindle, tablets, mp3 player or any other gadget, be well prepared for that as well. If you have a camera, make sure you get extra batteries and memory cards.
4. Clothes and Accessories
To minimise the number of clothes you take, try mix and match. See if you can wear different shirts/ t-shirts/ tops with the same jeans/ pants/ skirts. It is always better to carry one extra set of clothing just in case you get drenched, or get splattered with muddy water by an over speeding vehicle. Pack your undergarments, innerwear, and socks separately. Same is the case with jewellery, watch etc. Don't forget to pack your bath towel as well. Also pack in the order of when you will need them so that you don't have to unpack the whole suitcase when you need something. Try to iron your clothes before packing as it saves a lot of space. Also, try not to pack your bags to the brim so that you still have space to bring back something from where you are going. Never forget to take an extra pair of footwear apart from the ones you are wearing. If you are taking the flight, carry with you an extra set of clothing in your hand luggage just so that you have something to change into if your luggage goes missing or is delayed due to some unforeseen circumstances.
5. Toiletries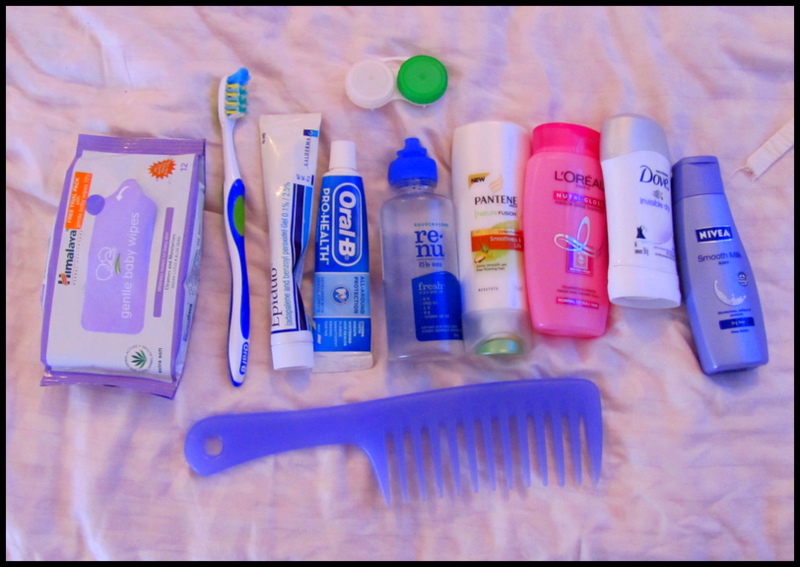 Checklist: Toothbrush, toothpaste, face wash, tissue paper, bathing soap, detergent, shampoo, moisturizer, and a comb. Also, take your shaving set, trimmers, nail cutter, hair dryer etc. if necessary.
6. Basic Medicines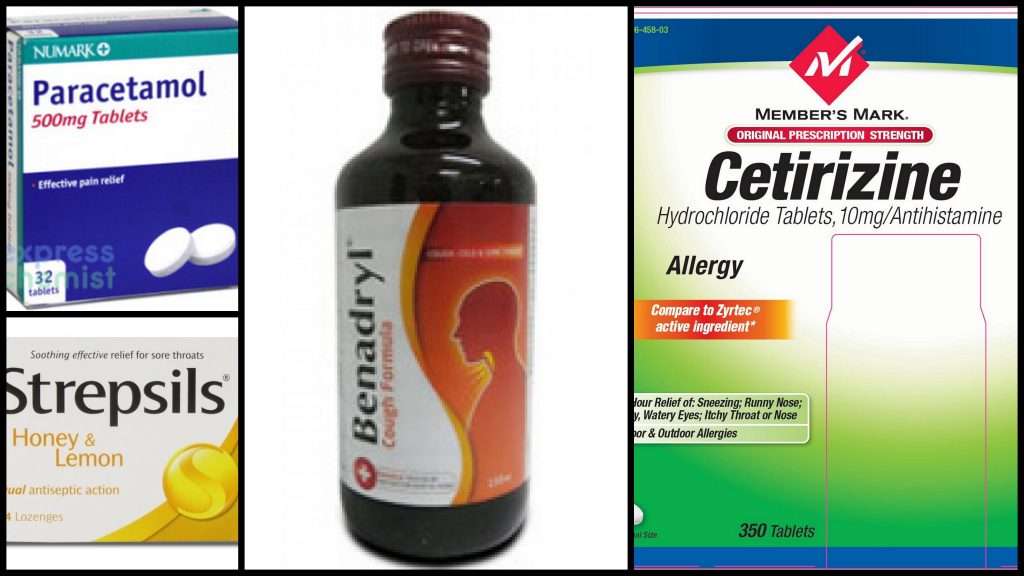 If you are under medication, those should be one of the first things you pack. Also carry your prescription along with you to use in case of emergencies. Note in a paper, if you are allergic to some medicine/ contents of medicines, and also the name of your doctor.
Carry also paracetamol, decongestants, medicines for stomach upset, headache, cough, band-aid and ointment for wounds etc. in a small bag. It really does not take up so much space!
7. Others
Check the weather of the place you are going to. Get umbrellas, jackets, warm clothing, blankets, caps etc. considering this. Also pack some amount of food, and water, toss in a couple of chocolates, and a sachet of glucose. Take along with you a small lock and key. Also, write down somewhere your phone number, and also another number to contact in case of emergency.
It is always better to make your own personal list of packing – things you will need all the time. This will be your basic packing list so that you can use it all the time you start packing. If you are a person who travels a lot, get a small handbag of essential things separately just for travelling.
Okay, now you are ready to go!