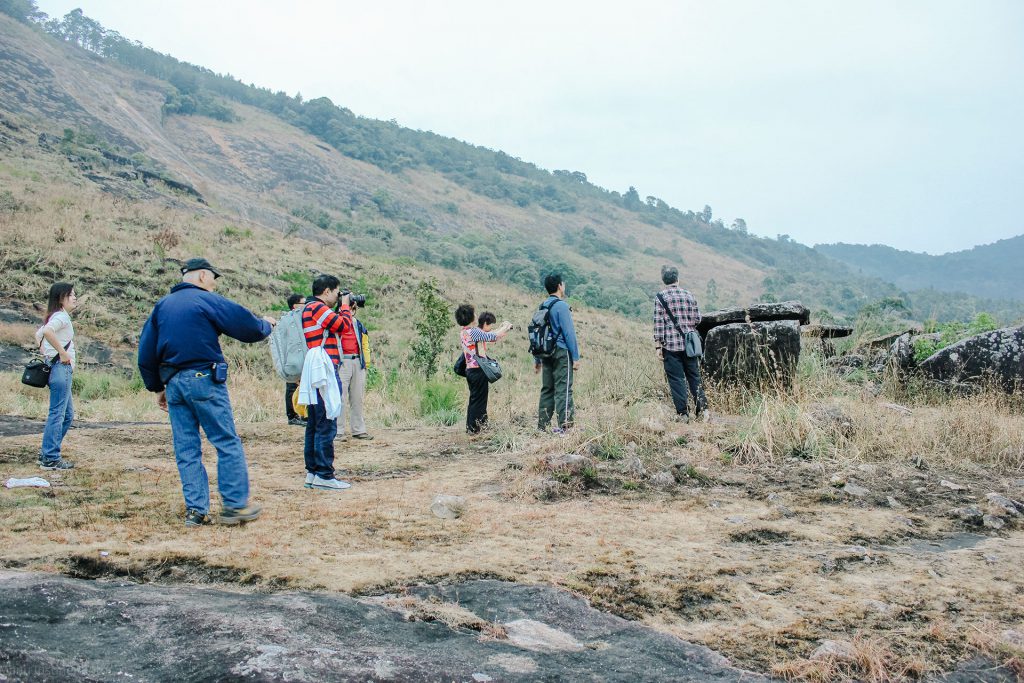 Location Activities
Plantation Walks
Munnar landscape is predominantly green, tea plantations that meander along its hills. Traveling towards the Bison Valley, the landscape slowly changes to thick forest land. Most of this forest is home to Cardamom plantations. Cardamom can survive only in the slightly cool and humid conditions; as undergrowth of these huge tall trees which has survived in these forests for hundreds of years. At SpiceTree we take our guests right into these plantations so that they can observe closely and get a real feel of tea and cardamom plantations. You can also see flora and fauna that are uniquely indigenous to this forest at these Cardamom plantations. Do take your cameras along. You can register some great images during these pleasant walks.
Bison Valley Village Tour
Bison valley is the small village overlooking the SpiceTree Resort. It has been one of the oldest migrations to the high range region from the central part of Kerala. Touring this place will give you a chance to take a glimpse into the life and cultural activities of the people living in this village who are mainly spice growers and farmers.
Cultural exposure and interactions
At SpiceTree we promote responsible tourism. Interactions and involvement with the local community is a primary aspect of this effort. The Bison Valley village and its rich cultural heritage has many valuable things to offer from different perspectives. We create opportunities for guests to observe local farming activities, weddings, church and temple worship sessions/festivals, market trading activities etc. Local house visits are also made possible to understand the lifestyle of the villagers.
Nature Expeditions with a naturalist
This is for the benefit of guests who are interested in a technical and scientific analysis of the trees, flora, fauna etc; of this area. For a serious student of nature, this terrain offers valuable information. These forests house many endangered and unique flora and fauna. You will have the company of a knowledgeable naturalist to assist you during such expeditions.
Nature Photography expeditions with expert guidance
Meticulous preparation is required for photographing nature in a professional manner. The position and intensity of the sun has a good bearing on the outcome of the photographs. Patience, endurance and support could be other factors. Also, understanding the behavior of the wild life around here helps. SpiceTree has expert guides who understand and appreciate such requirements with respect to nature photography. Please inform us at the time of booking to avail this professional service.
Dolmen Visit
There are only 2 places in the Western Ghats where you can see the remnants of the stone-age period. One is just in walkable distance from the SpiceTree, and the other one is in a place called Marayur about 60km from here.
These Dolmens are believed to be the dwelling places of the inhabitants of this area during the stone-age. Little is known about them through written history; but they were apparently the rulers of this beautiful land. Photography, and viewing the sunrise and sunsets are the highlights of this visit.
Trekking
Trekking is arranged to Kolukkumalai, Dolmen trek, Kallimali, Bison Valley etc. If you are bound for SpiceTree and if you are interested in trekking, please bring along footwear appropriate for trekking. We have experienced guides to look after you, and make these expeditions enjoyable and add a touch of exploration to it.
If you are interested in a rather challenging trek experience, we can arrange such elaborate programs to Kanan Devan Hills, Nilgiri Hills, Anamalai Hills, Cardamom Hills, Peermedu Hills etc. For example, Meesapulimaly and Karimkulam Hills Trek fall under Kanan Devan Hills Trek.
Tea and Cardamom field visits
Tea and Cardamom field visits are highly recommended if you have never experienced the same. You will have the opportunity to see these plantations and also visit tea processing factories and cardamom curing and processing facilities situated within the plantations. You will be introduced and taken through the various steps that make them marketable.