Kerala is a land which gets a lot of rain. The major source of electricity is also water here. So also, there are many dams throughout Kerala for this purpose. But, many of them are not just places of electricity production. It is also very much spots of tourist attraction mostly because the areas they are situated in are are home to a wide variety of flora and fauna.
1. Mullaperiyar Dam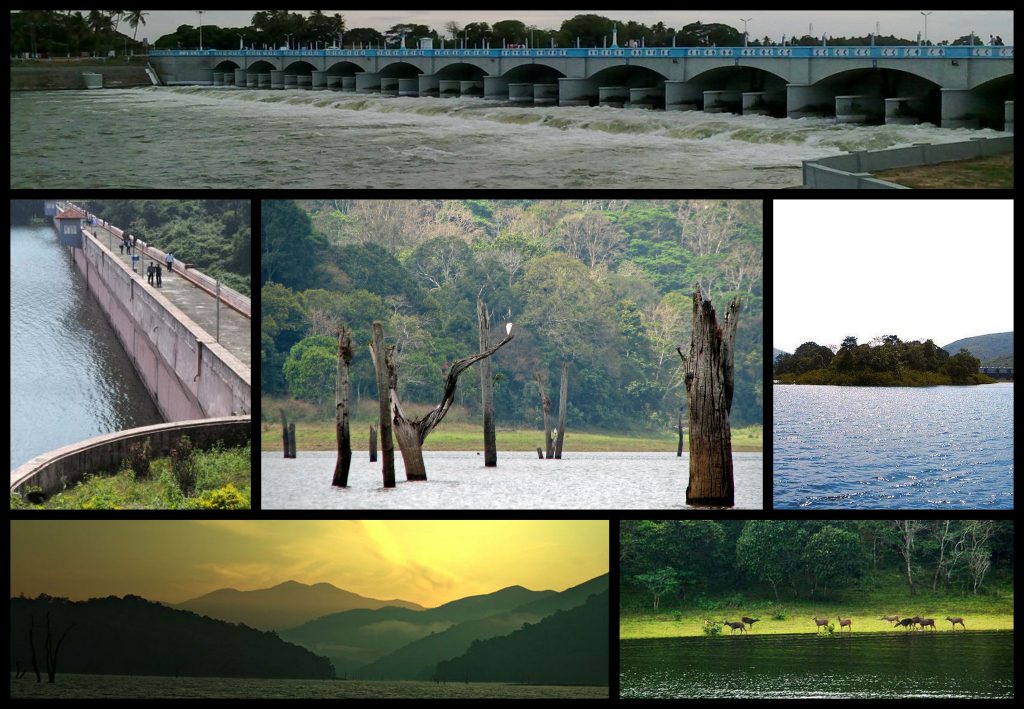 Located on the Cardomom Hills of the Western Ghats in Thekkady, Idukki it lies on river Periyar. This is one of the most controversial dams as there is a dispute regarding its ownership between the neighboring state of Tamil Nadu. Having nearly 120 years of history, this dam is known for its brilliant architecture. There are also facilities for speed boating through the dam. The dam is located around the Periyar Wildlife Sanctuary and is noted as an elephant and tiger reserve. Apart from this, you can also get a glimpse of live wildlife, birds and animals alike. The sight of submerged trees in Periyar Lake is one of a kind. The place is also home to many rare species of fauna. You will also be able to find teak, rosewood, bamboos etc. The tropical forest gives it a very peaceful and tranquil charm any person can enjoy.
2. Idukki Dam

Situated on Periyar itself, this is an arch dam that stands tall between two mountains called Kuravanmala and Kurathimala. Along with two other dams called the Cheruthoni and Kulamavu, they create an artificial lake. The dam is only open during vacation season. The Idukki Wildlife Sanctuary is located around it. The place is home to bisons, sambars deers, wild dogs, jungle cats, tigers, wild boars, elephants, and many types of snakes. There are also a wide variety of birds.
3. Thenmala Dam or Kallada Dam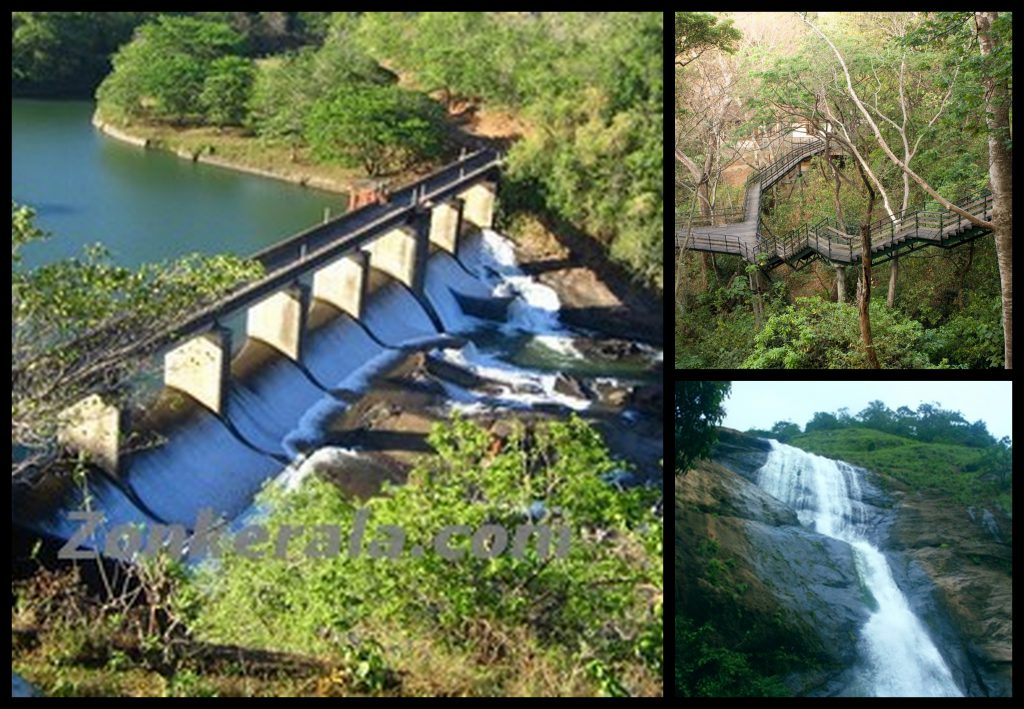 The second largest irrigation project in Kerala, this dam is located on Kallada River in Thenmala, in the district of Kollam. The area in which the dam is located is the first planned eco-tourism destination in India. Thenmala attracts tourists both local and foreign because of the variety of attractions it provides. There is a boating facility on the lake. Rope bridge, biking, trekking, mountaineering etc are other attractions. There is also a waterfall called 'Palaruvi' nearby. A deer rehabilitation centre where the visitors are allowed to watch deers in their natural habitat is a major highlight. On both sides of the reservoir lies the Shendurney Wildlife Sanctuary. This tropical evergreen and semi-evergreen forest is home to many endangered species like the lion tailed macaque.
4. Malampuzha Dam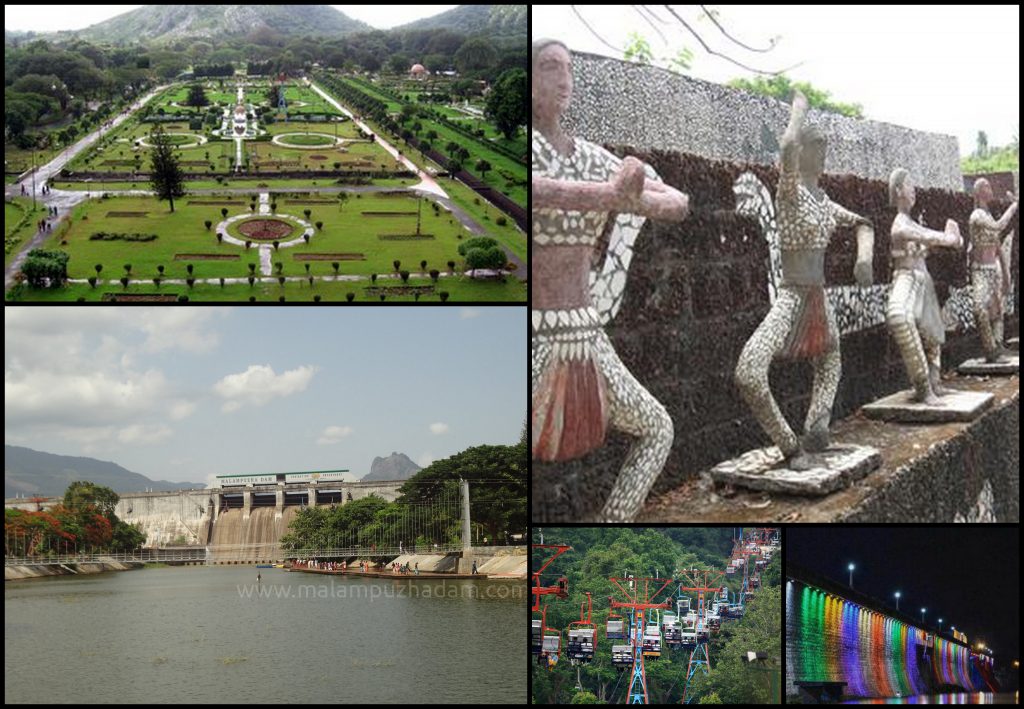 Located in the Palakkad district of Kerala, this is the largest reservoir of Kerala. Lying on the Malampuzha river, a tributary of the longest river of Kerala – Bharathapuzha, and with the most beautiful view of Western Ghats in the background, this is one of the most popular tourist destinations. There is a boating facility available as well. Nearby the dam, there is a garden which offers a wide variety of services. If you happen to go on a weekend or on a public holiday, you will get to see the garden illuminated as well. The ropeway over the garden is a one of a kind experience. There is also a snake rehabilitation centre, rock garden, Japanese garden, freshwater aquarium and a children's park located nearby the dam.
There are also other dams like the Banasura Sagar Dam in Wayanad, Neyyar Dam in Thiruvananthapuram, Peechi Dam in Thirssur etc. which also gives you fresh experiences. If you thought dams were only meant for storing water and producing electricity, Kerala is one of the best places to undo the notion.