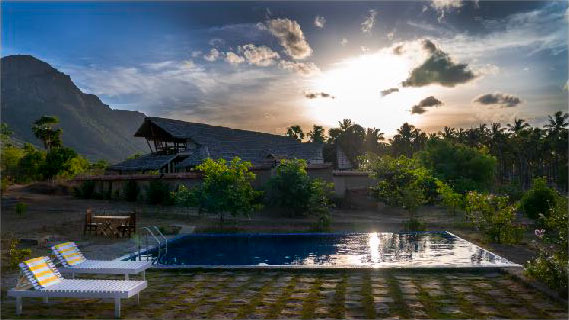 If you're planning a trip to India, you may be considering a stay at a luxurious resort. While there are many large, well-known resorts to choose from, have you considered staying at a boutique resort instead? Boutique resorts offer a unique and personalized experience that you can't find at larger, more impersonal hotels. In this blog, we'll explore some of the benefits of staying at a boutique resort in India, from personalized service to unique experiences.
Personalized Service
One of the biggest advantages of staying at a boutique resort in India is the personalized service you'll receive. Unlike larger resorts, which can often feel crowded and impersonal, boutique resorts offer a more intimate and personalized experience. You'll be greeted by name, and the staff will go out of their way to make sure your stay is comfortable and enjoyable.
At a boutique resort, you'll have access to concierge services that can help you plan your itinerary and make reservations for activities and dining. The staff will also be happy to provide recommendations for things to do and see in the local area. With this level of personalized service, you'll feel like a VIP from the moment you arrive at the resort.
Unique Experiences
Another great benefit of staying at a boutique resort in India is the unique experiences you'll have. Boutique resorts often offer activities and amenities that you won't find at larger hotels. For example, you might have the opportunity to participate in cooking classes or learn about local culture and history. Some boutique resorts even offer yoga and meditation classes, providing a relaxing and rejuvenating experience.
Additionally, boutique resorts are often located in beautiful and serene settings, offering stunning views and opportunities for outdoor adventure. You might have access to hiking and biking trails, or the chance to go birdwatching or wildlife spotting. Whatever your interests, a boutique resort in India is the perfect place to experience new and exciting activities.
Exceptional Dining
If you love good food, then you'll love the dining experience at a boutique resort in India. Boutique resorts often have their own on-site restaurants, which offer a wide range of delicious and authentic Indian dishes. The chefs at these restaurants are known for their creativity and skill, and they'll be happy to accommodate any dietary restrictions or preferences you may have.
In addition to on-site dining, many boutique resorts in India also offer private dining experiences. This might include a candlelit dinner for two on the beach, or a private cooking lesson with the resort's chef. These unique dining experiences are a great way to add a special touch to your stay.
Luxurious Accommodations
When you stay at a boutique resort in India, you can expect luxurious accommodations that will make you feel right at home. Boutique resorts often have smaller numbers of rooms, which means you'll have more space and privacy than you would at a larger hotel. The rooms at boutique resorts are often beautifully decorated, with high-quality furnishings and comfortable beds. Many boutique resorts also offer additional amenities, such as in-room fireplaces or private balconies with stunning views.
If you're still not convinced, here are a few more reasons why staying at a boutique resort in India is the way to go:
Personalized Attention: At a boutique resort, you'll receive personalized attention from the staff, who will go above and beyond to ensure that your needs are met. This is especially important if you're traveling to India for the first time and need help navigating the local culture and customs.
Unique Architecture: Many boutique resorts in India are located in historic or architecturally significant buildings, which means that you'll be staying in a piece of history. These properties often feature traditional Indian architecture, with intricate details and elegant design elements.
Local Charm: Boutique resorts in India are often located in smaller, less touristy towns and villages, which means you'll have the opportunity to experience local culture and customs. This is a great way to immerse yourself in the country and get a true sense of what it's like to live in India.
Special Offers and Packages: Boutique resorts often offer special packages and promotions, which can help you save money and get more for your money. For example, some boutique resorts offer all-inclusive packages that include meals, activities, and transportation. Others offer honeymoon or anniversary packages, which include romantic amenities like champagne and chocolate-covered strawberries.
Unique Amenities: In addition to the amenities you'd expect at any luxury resort, such as a fitness center and pool, boutique resorts in India often offer unique amenities that you won't find elsewhere. This might include a traditional Indian spa, where you can experience ayurvedic treatments and massages, or a library stocked with books about Indian culture and history.
In short, if you're looking for a truly unique and personalized experience during your trip to India, a boutique resort is the way to go. With personalized service, exceptional dining, and luxurious accommodations, a boutique resort offers everything you need for a truly unforgettable trip. So why not book your stay at a boutique luxury resort in India today and start planning your dream vacation?