We have looked into the details of some of the animals in Western Ghats and get to know about them in the first part of Wildlife of Western Ghats Escarpment, (if you haven't click here) now lets look into some more.
Black Footed Gray Langur
The Black Footed Gray Langur are found in tropical rainforest, moist deciduous forest, sacred groves, gardens, and riparian forest. The major threats faced by the black footed gray langur today includes agriculture, human settlement, fragmentation, habitat loss, mining, deforestation, hunting, deliberate fires, and local trade for live animals and meat for food and traditional medicine. They are listed as Vulnerable by IUCN based on a predicted decline of at least 30% population over the next three generations.
Population Trend: Decreasing
Brown Palm Civet
For those who live in and around the western ghats will be familiar with the Brown Palm Civet, the carnivore restricted to the rainforest tracts of the western ghats. They are arboreal and nocturnal. Because the Brown Palm Civet does not appear to have any major threats and occur in high numbers across its conservation status of "least concern".
Population Trend: Stable
Bengal Tiger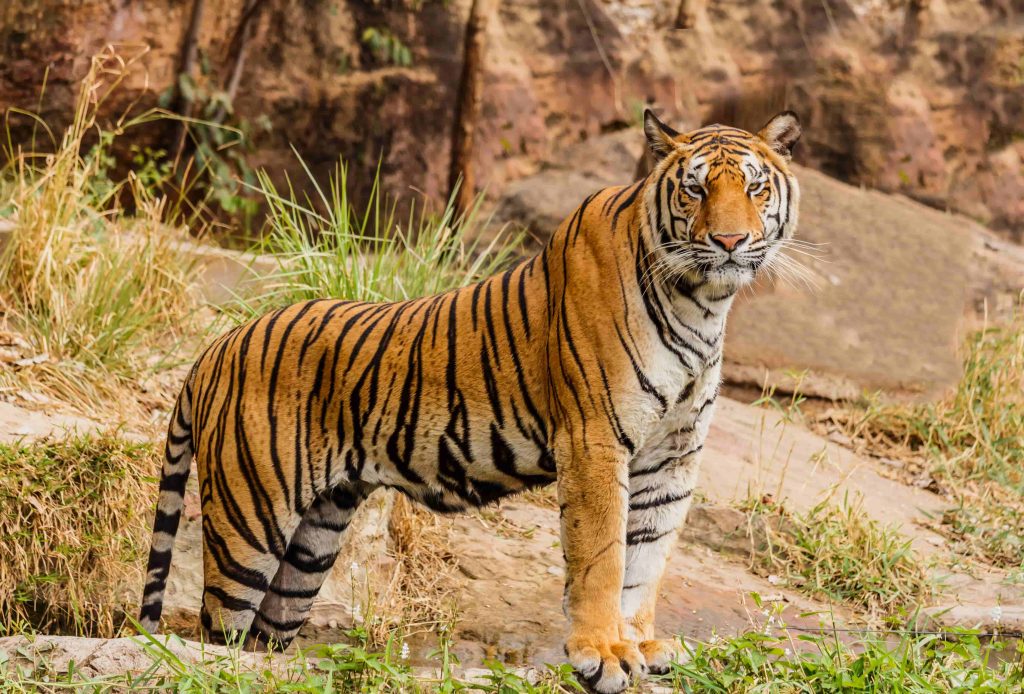 The Bengal Tiger is a subspecies of tiger, found across the Indian subcontinent. The Bengal tiger is considered to be the second largest species of tiger. It is the national animal of India. Majestic and lethal at the same time, these are one of the most graceful carnivores among the Indian fauna. Dry and wet deciduous forests, grassland and temperate forests, mangrove forests are the preferred habitats of Bengal tiger. By nature Bengal tiger are solitary and generally do not form packs. They are territorial and the size of their territories depends on the abundance of prey. Today, due to habitat loss caused by deforestation, and hunting by human poachers, the Bengal tiger is considered to be an endangered species.
Population Trend: Decreasing
Pangolins
Pangolins are the world's most heavily-trafficked wild mammals. Each year, more than 100,000 pangolins are poached from the wild, world wide. The Indian pangolin is primarily threatened by hunting and poaching, for both its meat and scales at the local, subsistence level, but increasingly for illegal international trade.
The word Pangolin comes from 'penggulung,' the Malay word for roller – the action a pangolin takes in self-defense. Pangolins is the only known mammal with large, protective keratin scales covering their skin. There are eight species of pangolin. They are nocturnal, and their diet consists of mainly ants and termites which they capture using their long tongues.
Population Trend: Decreasing
Indian Wild Dog (Dhole)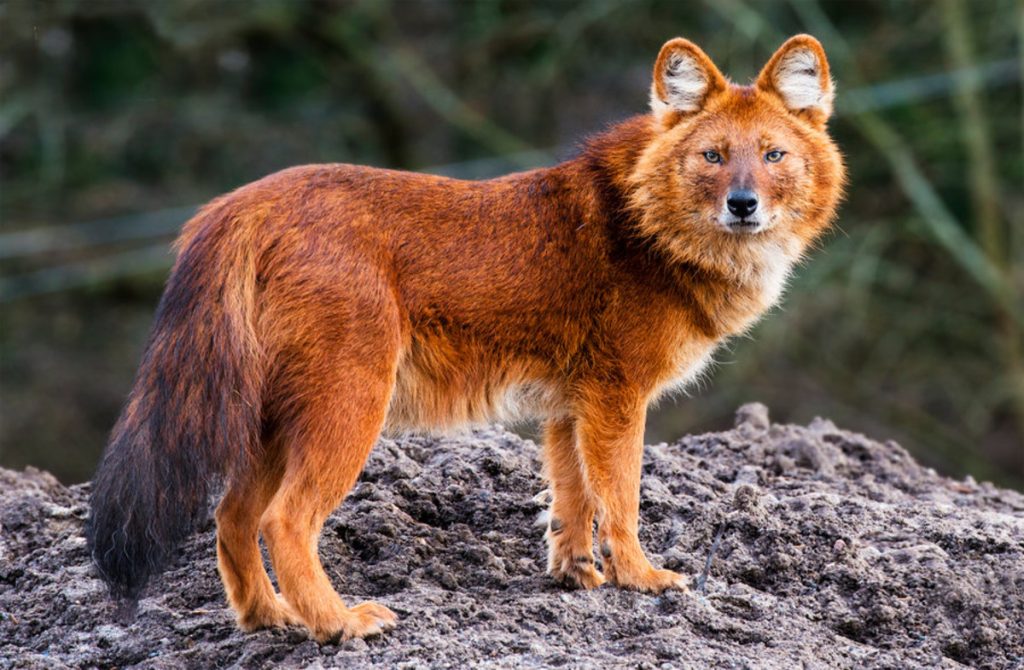 The Dhole is a highly social animal, living in large clans. They hunt in packs. The Dhole is well-known for the vocal calls that it uses to communicate with it's pack. The Dhole is an opportunistic feeder eating berries, fruit, insects, lizards, and mammals from small rodent to large deer size, including hares, wild boar, various ruminants, and even monkeys.
Major threats faced by the Dhole are depletion of prey base, habitat loss and transformation, persecution, disease and pathogens. The Dhole is listed as endangered by the IUCN as the population of Dhole are decreasing.
Population Trend: Decreasing
Gray Slender Lorises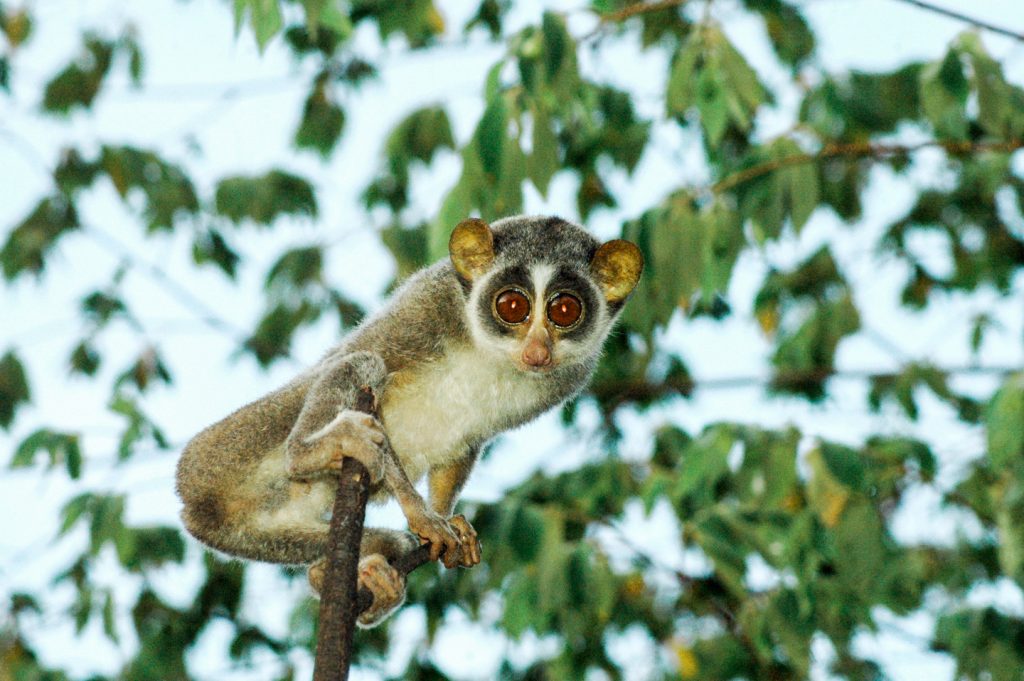 The gray slender loris is a tree-dwelling species, nocturnal and hunts primarily using their vision and therefore has remarkable eyes that are adapted to this life. Although this species often forages alone, they sleeps during the day in groups of up to seven individuals, and interacts within the group throughout the night. Gray slender lorises inhabit forests and plantations, but they seem to prefer degraded forests instead of primary forest, often living in areas near human habitations. Major threats faced by gray slender loris is habitat loss, road kills, electrocution on un-insulated power lines, hunting for the pet trade and to be used for traditional medicines.
Population Trend: Decreasing
Sloth Bears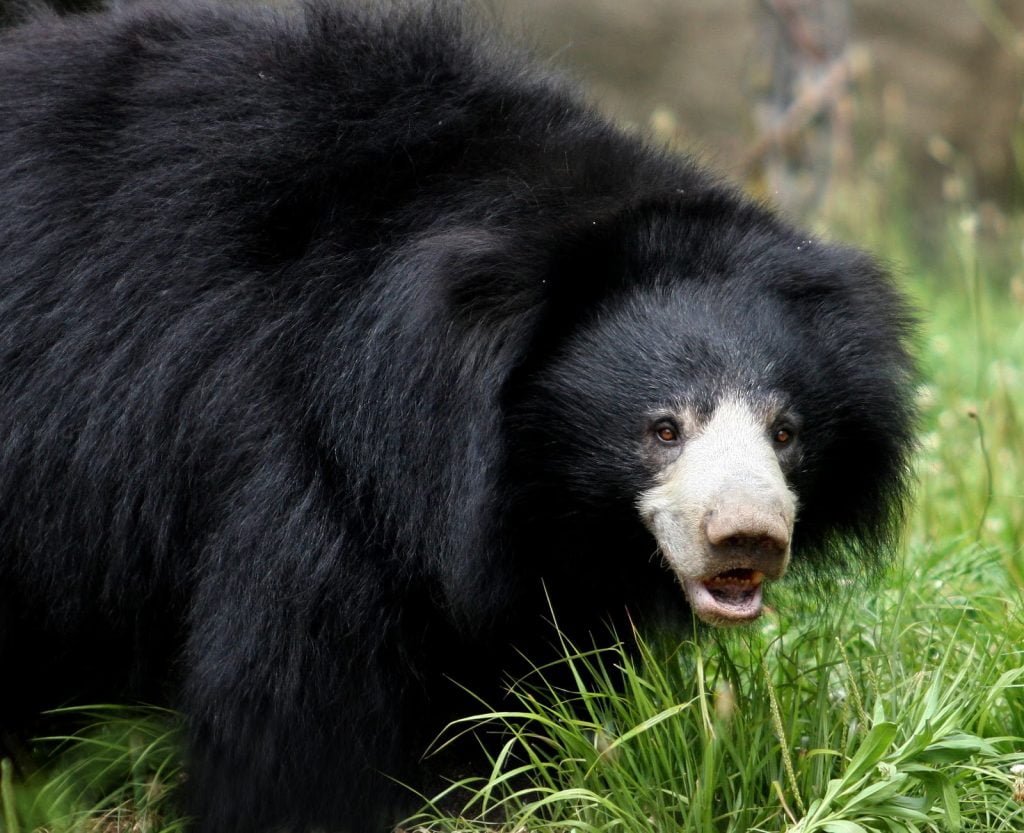 Sloth bears are extremely shy, seldom seen but will fiercely protect their young. This bear is only found in the Indian subcontinent with a subspecies in Sri Lanka, thus making it a rare and endangered species that enjoys the same level of protection as the tiger under Indian law. According to the Wildlife Protection Act, 1972, capture of these bears is a punishable offence with a jail sentence of up to 7 years if convicted.
Population Trend: Decreasing